Music critic Claire Abby is a single mom dreading her daughter's departure for college and worried that turning forty will leave her career running on fumes. She's floored when she lands a Rolling Stone cover story on 80s British rock legend Christopher Penman. She spent her teenage years fantasizing he was her boyfriend.
In person, Christopher is everything Claire feared he'd be—charming, witty and unwilling to address the rumors he's dodged for a decade. Still, she contains her adolescent fantasies and manages to earn his trust, unearthing the truth and the devastating secret behind it. His blockbuster story is her first priority when she returns home, a nearly impossible task when Christopher starts calling and flirting. She knows she should maintain a professional distance. She knows she should focus on the story. She knows it would be best to simply walk away. But how can she say "no" to the man she could never forget?
Excerpt:
This scene happens when Christopher visits Claire. At this point in the story, he still has no idea she was obsessed with him in high school. After dinner, he pokes around her record collection and discovers every record his band ever put out. Now he wants to know who her favorite member of the band was.
"Hmmm, Claire? Was it Graham? The girls just loved Graham." He stepped closer and narrowed his stare. "Maybe Nigel?" He inched toward me again. "Surely, you must remember who your favorite member was."
I twisted my mouth in an attempt to disguise my embarrassment, but that look of British smugness told me I'd never get out of it. I glanced down at my bare feet and then around the room, studying the red and blue Oriental rug and my dinged up coffee table. I searched for a place to rest my eyes, ultimately landing on a plant in need of water.
"You were my favorite," I confessed in a whisper.
"I knew it." He winked at me. "Now things are getting interesting."
"No, nothing is interesting. That was a long time ago." My defense was pathetic, but I persisted. "What was I supposed to say to you the day we met? Hi, I'm Claire." I mocked myself, staring at the ceiling, knocking my head from side to side. "I was totally in love with you and your band when I was a teenager."
He interrupted. "Hold on. When you say you were in love—"
"You know what I mean." I squinted, beyond annoyed. "I was in love with the idea of you, let's put it that way. You don't honestly think I should've told you that before the interview. I would've had zero credibility. Would you have still told me everything?"
"No. I would've seduced you and sent you on your way. After lunch, of course."
"Very funny. You know, I totally figured out that you planned the trip to Francesca's and our lunch, that you were trying to butter me up." It seemed like the perfect time to bust him and it happily deflected things from me.
"You're right. I did plan all of it. I thought it'd be more fun." I was perturbed by his ready disclosure of the facts because it felt as if I hadn't caught him in a thing.
"Oh, and the whole trying on clothes thing, that didn't have anything to do with your good looks and the fact that I'm a woman."
"Just like your change of clothes that night had everything to do with me being a man."
I pursed my lips, confronted again with my attempt at matching his manipulation.
He lowered his voice, "I never planned for it to go beyond lunch." Now he seemed unsure of himself—vaguely unsure, but I would take what I could get. "You're a mystery to me, quite fascinating actually. You're the first woman I've met in a very long time, possibly ever, who didn't seem the slightest bit impressed by me. You're definitely the first woman I've ever met who didn't want anything from me."
Review:
Reading this book took me back to when I was a teenager and was head over feet in love with Gavin Rossdale from Bush. Back to when my greatest musical influences were Nirvana, Foo Fighters, Bush and Silverchair. I know without a doubt that Melissa's teen heartthrob was and still is Dave Grohl from the Foo Fighters. How many of you remember your first teen crush? Do you remember thinking what you would do or say if you ever met this person? Well that's what happens in this story.
I love the chemistry between Chris and Claire, the way things just flow with them, like they have known each other for years. I liked Chris from the beginning, his wit and charm and that smirk. He wooed me right along with Claire. I love that Claire is a single mother, that she had to do things on her own, she is self sufficient and independent. She can be a mom taking her daughter to school one minute then turn around and interview a rock legend like a pro. Hats off to you Claire!
This was my first read by Karen Booth and I will definitely be looking for more by her. The way she writes just draws you in from the beginning and it just gets better and better. I hated to get to the last page, I started reading slower and slower just so I could have a little longer with the characters.
Giveaway:
Use the rafflecopter below to enter for a chance to win an E-book of Bring me Back
a Rafflecopter giveaway
Visit the other blogs on the tour
3/4/13
Mrs Condit & Friends Read Books
Talk Supe
Stitch Read Cook
3/5/13
Hesperia Loves Books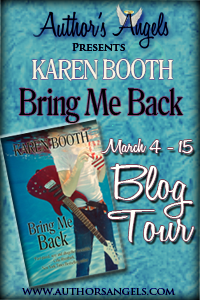 AJ's Reading Nook
Lori's Book Blog
3/6/13
Smardy Pants Book Blog
.
Musings From An Addicted Reader
A Little Fiction of Every Flavour
3/7/13
Heart Braking Reviews
Cocktails and Books
Melinda Doizer Contemporary Romance Author
3/12/13
3/13/13
Harlie's Books
Bookworm Brandee
3/14/13
Brunette Librarian
StoreyBook Reviews
Simply Ali
3/15/13
Love Romance Passion
Tina's Book Reviews
Guilty Pleasures Book Reviews